Responses to the winning book The Bubble Boy
Yuxuan from Eltham College built a model of the UFO he imagined Amir was telling Joe about.
Khalia from Royal Russell School built Joe's bedroom as she imagined it in The Bubble Boy
Emanuel – Eva and the Good Blood Cells – Atitiya  This beautiful picture book was created by Atitya and it explains Joe's illness for younger people.  Judges were so impressed that Atitya won the best Creative Response to a book.
Responses to The Knife of Never Letting Go by Patrick Ness
Emanuel – Todd's Mother's Diary – Molly   Molly created an amazing artefact – Todd's mother's diary, complete with knife.  Handwritten, and very authentic looking, this was an amazing piece of work. No wonder Molly was a runner up for Creative Responses.
Max from Reeds composed this wonderful piece of music as a response to the book
Reeds – The Knife Will Let Go – James   James has written a poem from Todd's viewpoint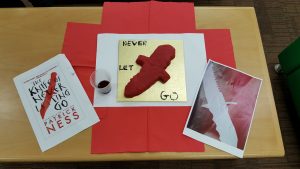 This fantastic cake was created by a student at Dulwich College
These images were from a Diorama created by Liza from Latymer Upper School – it's an amazingly detailed piece of artwork
Finnian from City of London Boys School sculpted this image in response to The Knife of Never Letting Go
Response to The Smell of Other People's Houses by Bonnie-Sue Hitchcock
Phoebe, Anouska, and Ailbhe were the runners up in the Creative Responses for this beautiful creation in response to this book.  It was very detailed and was well worth a close look
Responses to Not If I See You First by Eric Lindstrom
Jakobi from Latymer Upper School created this blindfold for Parker in Not If I See You First.  Parker loves colourful blindfolds, and this one has the title in Braille on one side and a beautiful rainbow pattern on the other
Responses to She Is Not Invisible by Marcus Sedgwick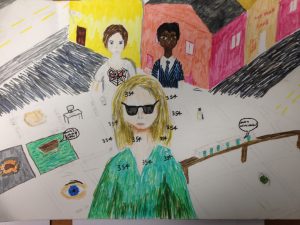 Micah from City of London School created this picture in response to the book
Royal Russell – She is not invisible – Kya-Grace from Royal Russell School created this picture in response to the book
Response to There Will Be Lies by Nick Lake
RGS – Chapter 85 – There Will Be Lies – Tom  An extra chapter for There Will be Lies by Tom from RGS – it's a great read!
Response to The Seeing by Diana Hendry
RGS – Mr Oliver's Diary – Ollie  An imagined Diary written by Ollie from RGS